Top 10 Precision Machined Components in Vietnam
TDB Machining
The precision industry is a growing sector in Vietnam, with an annual growth rate of about 30% in recent years, making it one of Vietnam's major export and foreign exchange generating industries.
Precision machined products have been Vietnam's third fastest growing export product since 2020, after coal and rice, although higher crude oil prices and increased import demand have led to higher prices for plastic resins in recent years.
Most of Vietnam's precision machined industry products are used nationwide. We'll explore these top precision machined parts manufacturers in Vietnam, looking at their history and the types of products they specialize in.
If you are looking for precision machined parts in Vietnam, we hope this article will be helpful to you!

Top 10 Precision Machined Components in Vietnam
1. TDB Precision Vietnam
Location: Hoai Duc,Vietnam
Company type: Manufacturing
Year founded: 2015
The number of employees: 30-50
Main products: CNC Precision Turning, CNC Machining, CNC Grinding, Metal Fabrication.

Quick Quote
TDBTec began as a small CNC Machining Services in 2015 in Hanoi. Their first machining shop was opened three years later in 2023, and they're proud to say they still have customers who have been with them from the beginning.
Over a decade, they expanded their service offerings to include Precision Machining, Mold Fabrication, and Injection Molding Manufacturing.
The goal is to provide you with a full range of integrated manufacturing services at a lower overhead cost, better quality control and lead time.
Their factories in Binh Duong, Saigon, Bac Ninh, and Vinh Phuc make parts and assemblies for various industries on both sides of the Pacific.
Whether you want to switch part of your production to South East Asia, or to find a strategic manufacturer in Vietnam, they'll help you to make it happen.
2. Redstone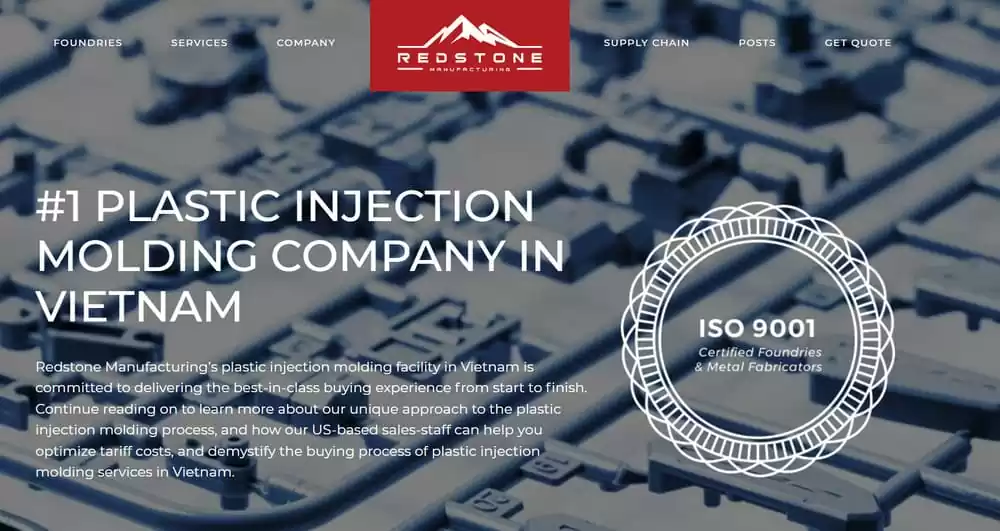 Quick Quote
Redstone Profile
Redstone Manufacturing's plastic injection molding facility in Vietnam. It is committed to delivering the best-in-class buying experience from start to finish.
Continue reading on to learn more about our unique approach to the plastic injection molding process, and how our sales-staff can help you optimize tariff costs, and demystify the buying process of plastic injection molding services in Vietnam.
Here at Redstone Manufacturing, they simplify the buying process and reduce the risk of working with foreign manufacturers.
Combined with Redstone Manufacturing's global supply chain, tariff consulting, and diverse plastic injection molding production capabilities, the end result is significant cost savings and reduced risk during your plastic injection molding process from start to finish.
3. VMR CO; LTD
Location: Ho Chi Minh City, Vietnam.
Company type: Manufacturing
Year founded: 2003
The number of employees: 150-199
Main products: Precision moulds, Moulding, Testing and Verfication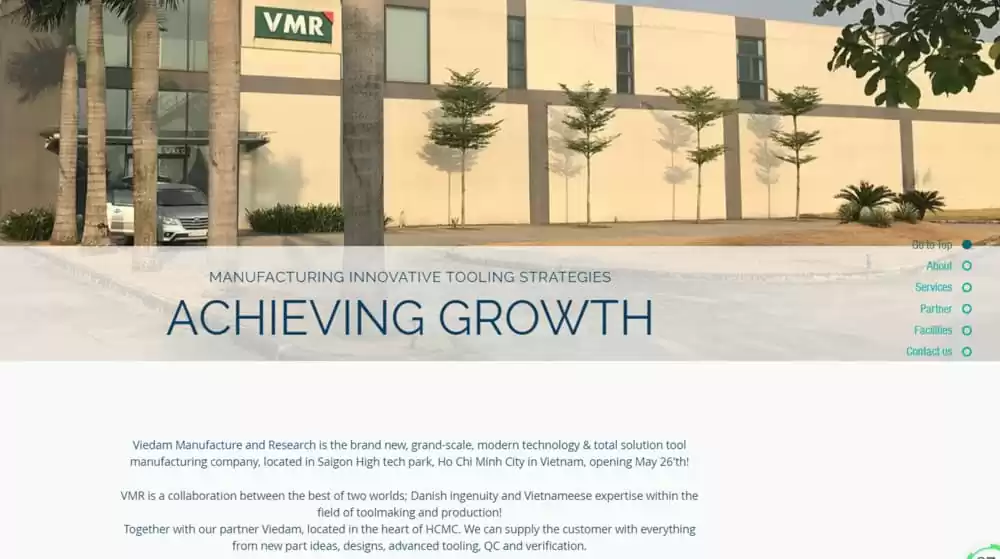 Quick Quote
VMR CO; LTD Company Profile
VMR office and factory are located in Ho Chi Minh City; the company provides a full cycle of manufacturing solutions to its clients.
Their partner with Viedam.Ltd, which is a Vietnamese and Danish jointed mold company, established in 2003.
It brings both Europe management and knowledge to VMR. There are more than twenty designers to assist clients in product development, designing options and solutions.
VMR has its own molding machines to execute the manufacturing process
after designs; that provide fast and reliable injection molding services, whether it is a duplicated product or a new unique product.
4. MIDA Precision Mold
Location: Long An ,Vietnam
Company type: Manufacturing
Year founded: 2005
The number of employees: 150-199
Main products: Injection molds, Plastic molding


Quick Quote
MIDA Precision Mold Company Profile
MIDA Precision Mold is a leading injection mold manufacturer & plastic components manufacturer in Vietnam.
They can provide their customers one-stop solutions for designing products and molds, manufacturing, decorating, packaging to delivering products including: Injection molds & Plastic Molding, Medical Plastics, Plastic parts for Medical Devices, Plastic Parts for Household appliances, Digital Devices, Cosmetic Plastics.
For the commitment in providing finest quality products to our customers, MIDA has been setting up an efficient quality & environment management system from beginning and been certified by Bureau Veritas on ISO 9001:2015, ISO 14001:2015, ISO 13485:2016 & ISO 45001:2018.
5. Kung Chang Precision Industry
Location: Binh Duong, Vietnam
Company type: Manufacturing
Year founded: 2001
The number of employees: 150-199
Main products: Plastic Injection Mold, Die-Casting Mold


Quick Quote
Kung Chang Precision Industry Company Profile
Kuang Chang Precision Industry Co., ltd established in 2001. More than 20 years experience designing, repairing, producing plastic injection molds and aluminium alloy mold. Modern machine technology and professional workers created various products.
Their company provides all kinds of molds. Besides, They produce the most modern and high quality products for customer's daily life.
Their company nonstops discovery and production diversitification molds to respond customers both inside and outside country over the world. They are potential partner of some coutries: USA, Japan, Italy, Australia.
6. Sanko Mold
Location: Dong Nai,Viet Nam
Company type: Manufacturing
Year founded: 2000
The number of employees: 150-199
Main products: Injection-moulded plastic products.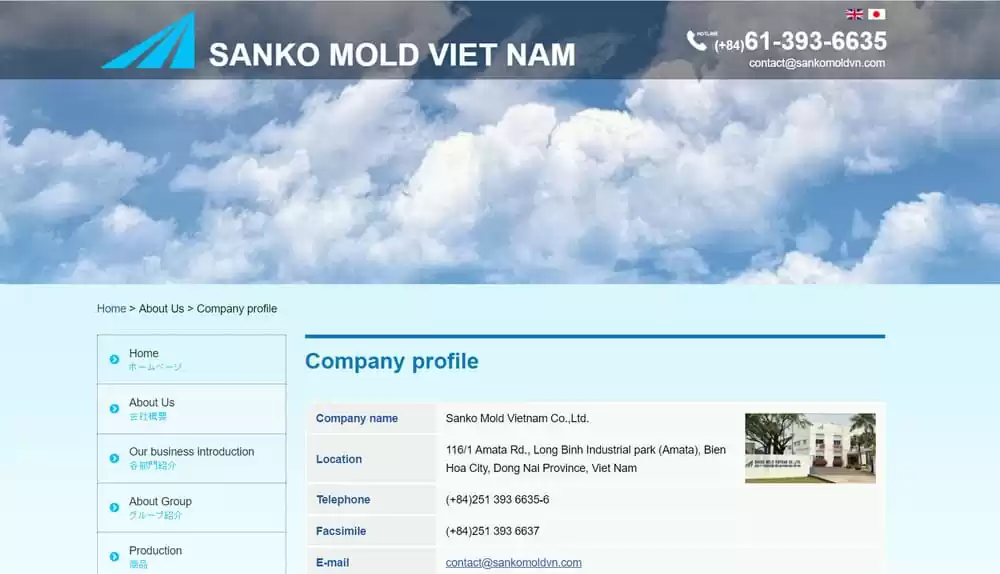 Quick Quote
Sanko Mold Company Profile
Sanko Mold Vietnam Co., Ltd. has been established in July 2000 in Long Binh Industrial park (Amata) and it has been commencing operation since April 2001.
As three pillars of the mold department, plastic injection molding department and assembly department, they can provide total support of plastic parts from injection mold manufacturing until plastic injection molding and assembly even mold maintenance or repair only in accordance with the requirement from customers.
7. THT Precision Mold Co., Ltd
Location: Binh Tan,Vietnam
Company type: Manufacturing
Year founded: 2012
The number of employees: 50-99
Main products:Injection molds, Plastic molding, Medical Plastics, Electronic Plastics, Technical Plastics, Precision Plastics,
Cosmetic Plastics, Interior Exterior Plastics, Automobile Plastics, Connector.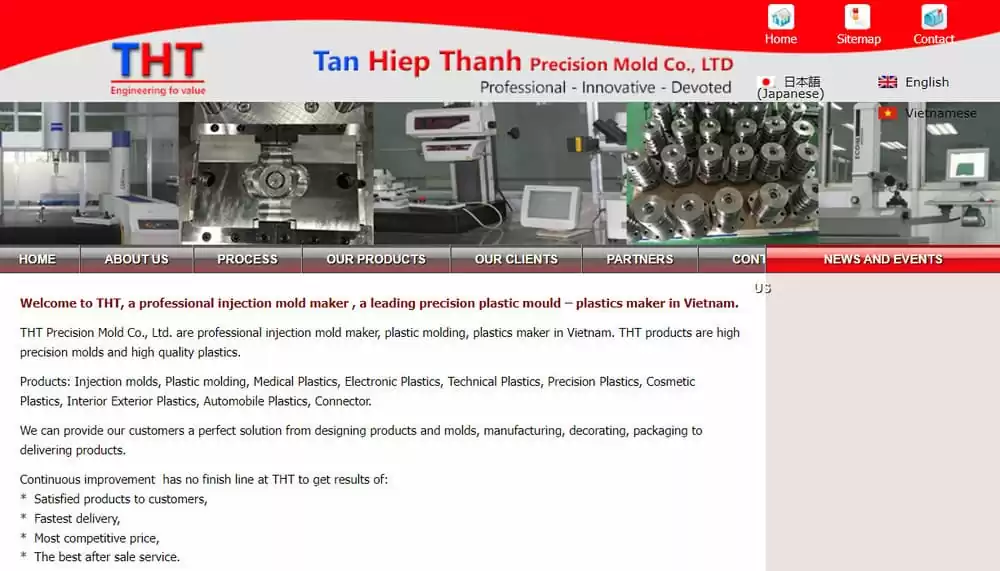 Quick Quote
THT Precision Mold Co., Ltd Company Profile
THT Precision Mold Co., Ltd is a professional injection mold maker,a leading precision plastic mould marker– Precision manufacturing in Vietnam.
It was established in August 2012, located in the area which is large, clean and convenient on traffic.
THT products have high quality and high precision due to professional working, skill staffs and all equipment systems were modern CNC, EDM machines, modern plastic injection molding machines, precision measure equipments from leading brand names in Japan, Germany as: Mori Seiki, Mazak, DMJ, Okamoto, Fanuc, Yushin, Mitutoyo, Misumi….
Their staffs, management boards, QC are engineers, technician have good experiments, good skills in injection mold making, plastic molding engineering.
8. Sanshin Vietnam Ind
Location: Binh Duong,Vietnam
Company type: Manufacturing
Year founded: 2010
The number of employees: 50-99
Main products: Production and sales of plastic parts. Injection Mold manufacturing, repair and its sales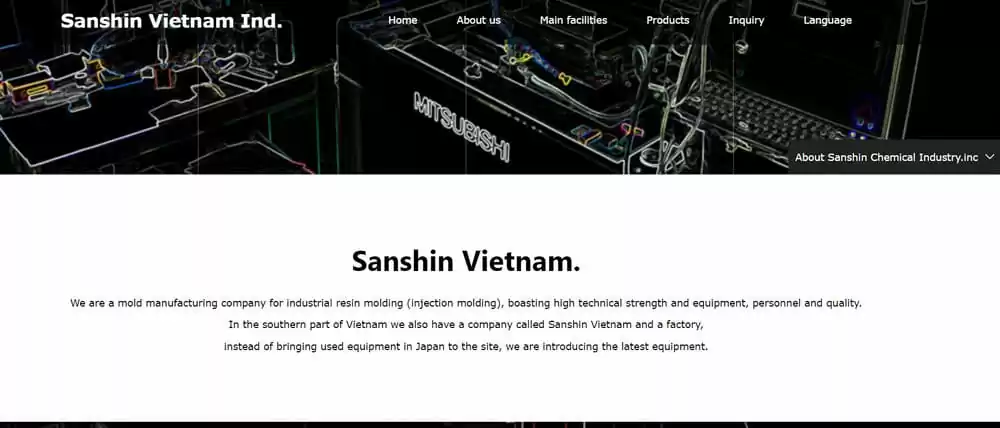 Quick Quote
Sanshin Vietnam Ind Company Profile
They are a injection mold manufacturing company for industrial resin molding (injection molding), boasting high technical strength and equipment, personnel and quality.
In the southern part of Vietnam they also have a company called Sanshin Vietnam and a factory,instead of bringing used equipment in Japan to the site, they are introducing the latest equipment.
9. 3H Plastic Joint Stock Company
Location: Hanoi,Vietnam
Company type: Manufacturing
Year founded: 2010
The number of employees: 50-99
Main products: Precision molding, Toys molding, Automotive spare part molding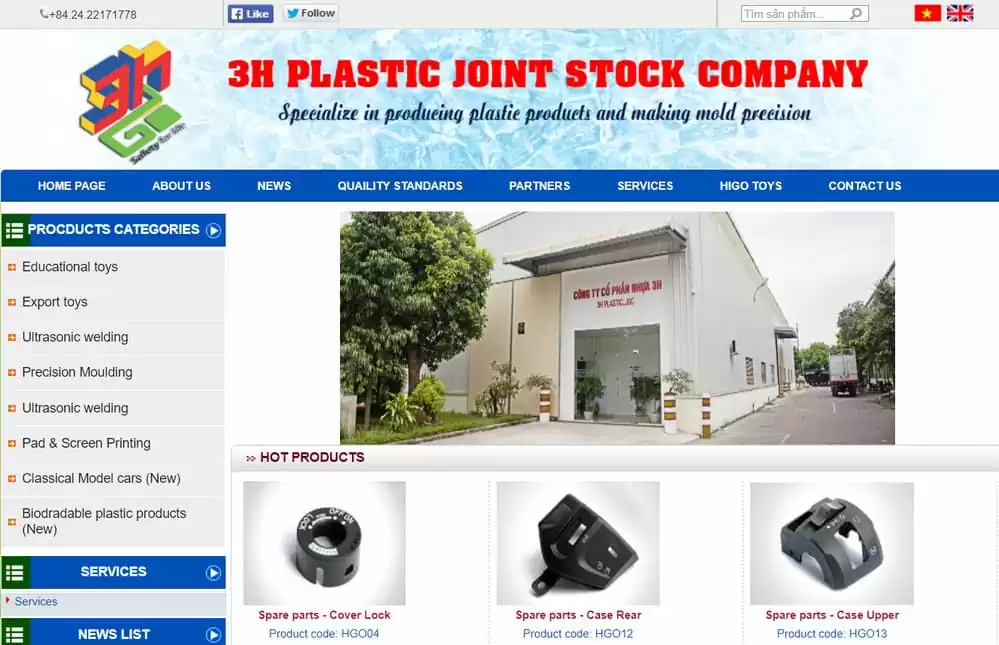 Quick Quote
3H Plastic Joint Stock Company Profile
3H Plastic Joint Stock Company was established in 2010 as a plastic molds manufacturer. It is one of the leading manufacturers specializing in processing Precision Moulding and producing Plastic Products in Vietnam.
With modern factory and machinery system, managed by a proficient board directors, professional technicians and skilled workers, their products have been exporting to foreign markets such as: Japan, USA, England, Australia…
They have been building up their reputation of 3H Plastic JSC.  Their products are produced from original plastic and comply with the safety standards of International Technical Standards as ROHS, ASTM, EN71, ST2002…
10. Ha Noi Mould-Tech Co., Ltd
Location: Ha Noi,Vietnam
Company type: Manufacturing
Year founded: 2005
The number of employees: 10 – 49 employees
Main products: Injection Mould, Plastic Mold, Cnc Production

Quick Quote
Ha Noi Mould-Tech Co., Ltd Company Profile
They are injection mold Maker specialize in plastic injection molds. Their service support household, industrial fields: bicycle, motorcycle, motor car, industrial electrics, office instrument.
Their factory is equipped with the complete system of machineries and equipments from Japan: CNC milling center (Mitsui Seiki, Makino, Enshu), EDM-CNC machines (Sodick), with high precision and high speed machining ability.
CAD, CAM software (Auto CAD, Pro-engineer) specialize in modeling, mold design and machining, will give you desired products.
If you're looking for more injection molding manufacturers, Also you can choose a Chinese injection mold supplier: Zetar Mold
Zetar Mold
Location: Shanghai, China
Company type: Manufacturing
Year founded: 2005
The number of employees: 201-300
Main product: Plastic Injection Mold, Plastic Injection Molding Manufacturing
Other products: Overmolding Products, Insert Molding Products,3D printing and CNC Prototyping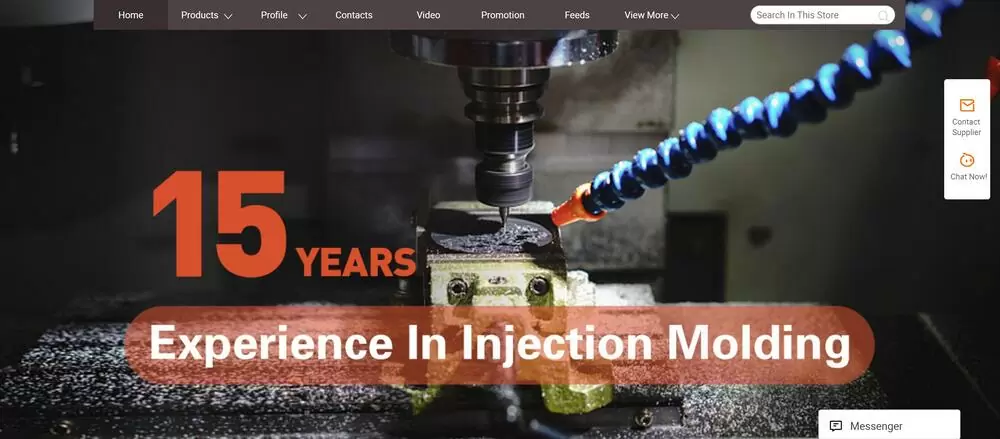 Quick Quote
Zetar Company Profile
Zetar is a top-end turnkey manufacturing company that helps wholesalers and brand owners fulfill their products.
Zetar has more than 20 English speakers and 7 experienced mold design engineers (some of them can also speak English) with technique and english communication, which could make sure fluent communication and offer feasible design solutions.
Now total Zetar has mold making shop in house, 31 sets injection molding machines range from 60T-1100T. which 6 sets are in dust-free room(M7 Class), assembly room and logo printing room. The largest 1100T injection molding machines could produce product weight up to 5100g.
Zetar definitely also has many certificates: TUV, ISO9001 (quality system certification), TS16949 (certification for auto parts making), ISO14001 (certification for showing not harming the environment during whole manufacturing process).
Conclusion
Finding a trustworthy manufacturer nowadays is not that easy, especially that there are a lot of new manufacturers that have emerged just to keep up with the trend. But hopefully, our list was able to help you find the injection molding manufacturer that best suits your requirements. It is recommended to do a background check before creating partnerships with manufacturers because they will play a huge part in the success of your business.